KDI Invest: A Revolutionary Investment That Works for You 24/7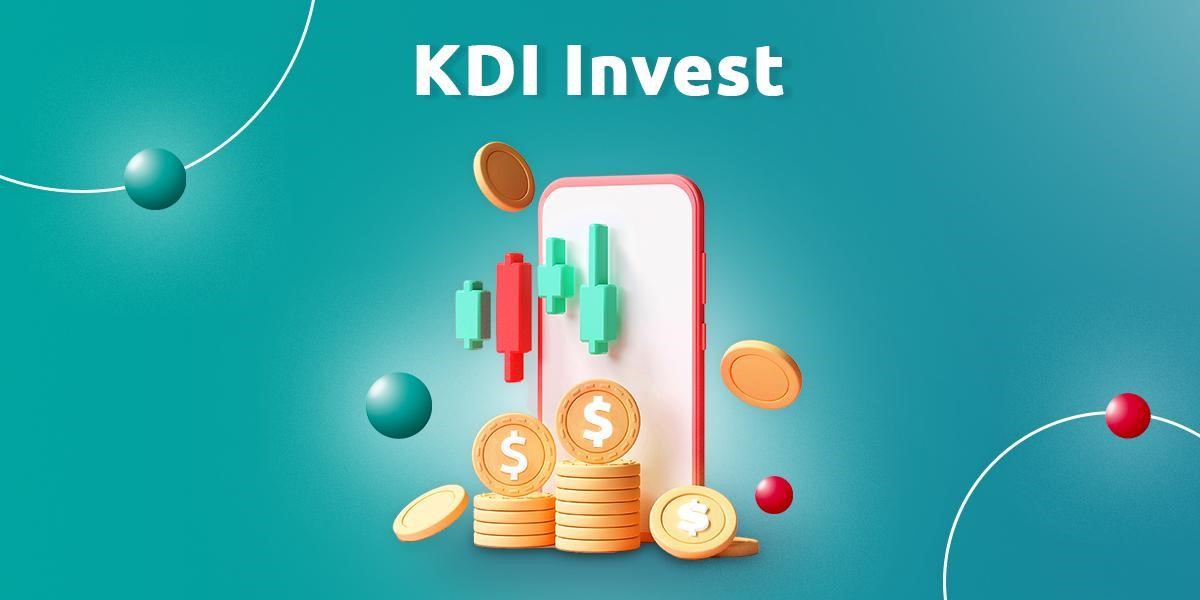 Investing has often been misunderstood as something that is only reserved for the well off, due to the perception that only the elites have access to a large sum of funds and the means to appoint an expert to guide them. That is not the case anymore, as the investment landscape today is undergoing a revolution thanks to the emergence of technological innovations such as automation, algorithms, machine learning and more.
The latest digital initiative by the largest independent investment bank in Malaysia, Kenanga Digital Investing (KDI) from Kenanga Investment Bank Berhad (Kenanga) is a fully automated Artificial Intelligence (A.I.) digital investment management platform designed to maximize value while controlling risk for investors. Also known as a 'robo-advisory' platform, KDI Invest seeks to disrupt the local investment industry by transforming the way we invest our money.
Simply explained, imagine you are investing in a unit trust or any other traditional investment, minus the high fees, human error, slow execution, and lack of transparency. That, in a nutshell, is KDI Invest.
Robo Advisory – Leveraging on The Power of A.I. Investment
KDI Invest leads as a gateway to the global markets by removing emotions from the investment decision via utilization of A.I. technology. Traditionally, human inputs are required at every stage, from idea generation, stock analysis, portfolio creation, to share trading.
KDI Invest is your A.I. fund manager, one that works for you 24/7 and literally never sleeps in the pursuit of maximizing your returns whilst managing your risk. The A.I. analyses thousands of data points each day, incorporating information from across continents and asset classes, to develop an investment portfolio tailored to you.
With a robo-advisor, one of the best benefits is the reduction of human error and behavioral bias, which can be detrimental to the performance of investment portfolios.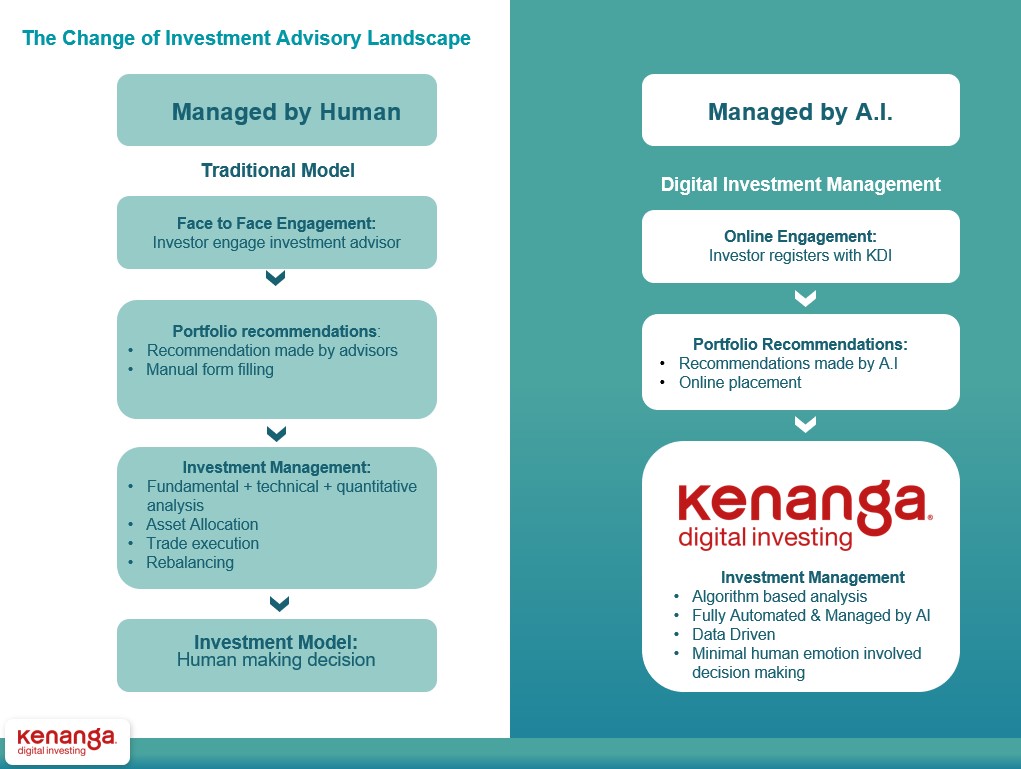 Kenanga Digital Investing (KDI) In Revolutionising the Local Investment Advisory Landscape.
Human Intervention: A Double-Edged Sword in Portfolio Management
Until the day technology has matured enough that A.I. develops an independent creative impulse, we still need human input for vocations related to creativity and imagination. However, the same cannot be said for portfolio management where emotions often result in undesirable outcomes especially during turbulent trading times. In fact, according to SPIVA U.S. Scorecard (Mid-Year 2021), on average, some 60% of human-managed U.S. Equity Funds (across all indexes) missed their benchmarks in absolute returns over a 12-month period through June 2021 – you might stand a better chance flipping a coin!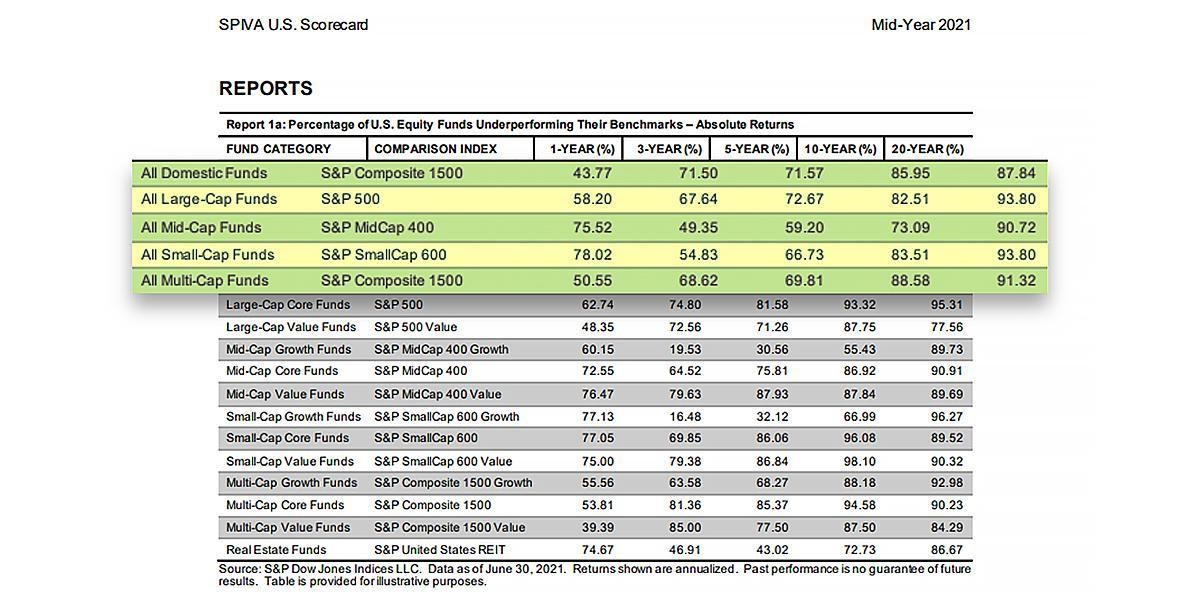 Snapshot of percentage of U.S. Equity Funds Underperforming their benchmarks using human-managed fund management
(Source: SPIVA U.S. Scorecard, Mid-Year 2021)

By replacing humans with A.I. at nearly every stage of the investment process, KDI is able to bring affordable global investing opportunities to more Malaysians, balancing prudent risk management with access to both local and global equities.

Liberating the Traditional Investment Fee Structure
KDI Invest is designed to bring global investment to everyone with a promise of the lowest management fees in town. As a matter of fact, investors are able to enjoy as low as zero fees with no hidden charges.
Compared to the typical unit trust with 3% to 5% upfront fees and annual management fees ranging from 1.5% to 2.5%, investors can enjoy zero fees for investments below RM3,000 with KDI Invest. Beyond RM3,000, KDI Invest charges the lowest management fees in town at 0.3%-0.7%, capped at RM6,000. There are no hidden fees or upfront charges with KDI Invest. While the fee difference might look relatively small, it can actually have a major impact on investment value over time, particularly with traditional upfront sales charges eating into your investment value from day one.
KDI Invest – A Localized Robo-Advisor That Understands You
Tapping on the wealth of investing experience and cultural knowledge from the largest independent investment bank in Malaysia, KDI also incorporates your personal preferences into its system.
KDI's risk questionnaires and profiling take into account the investor's demographics such as each individual's age, investment goal, and investment duration to assess each individual's risk appetite. From this information, KDI proposes several diversified portfolios that align with 5 uniquely tailored risk profiles. The A.I. then monitors the global market conditions and rebalances your portfolios automatically, giving you peace of mind that your portfolio is being taken care of around the clock.
KDI Invest: Something for Everybody
If you are in the market for an easy access, cost-effective investment vehicle with minimal entry requirements from as low as RM250, register with us now to start investing in KDI Invest with no fees for portfolios up to RM3,000.