Planning for Your Dream Honeymoon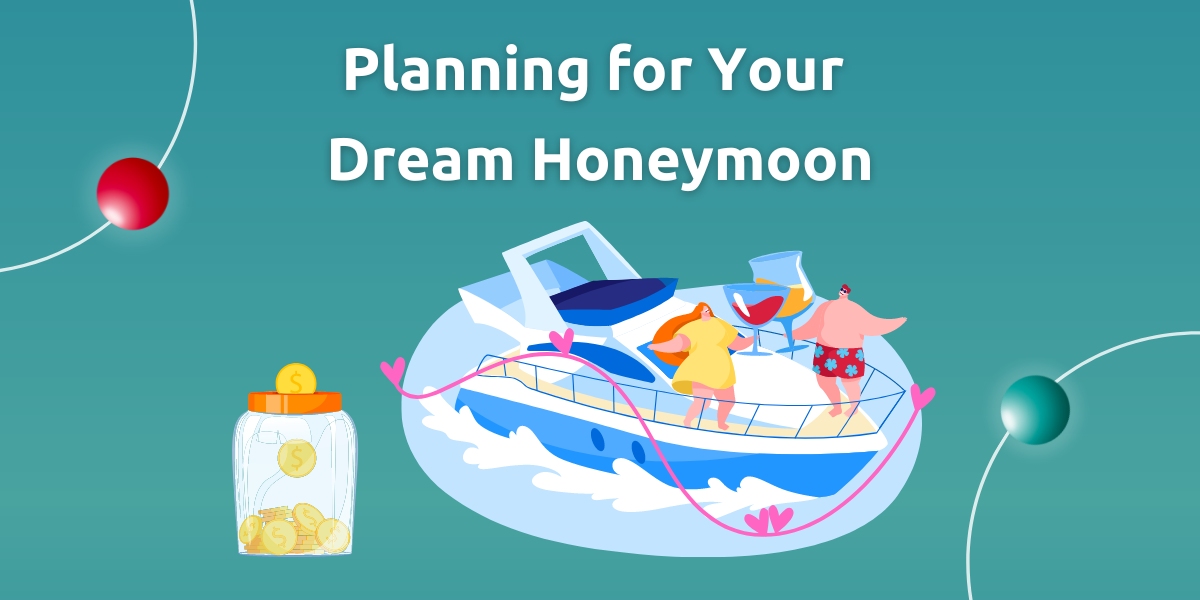 A wedding is a beautiful celebration of love and commitment – but in many ways, it is more for your family and friends; it is the honeymoon that is meant especially for you two to seal your new bond.
As such, many people nowadays are choosing to have simpler receptions and – subsequently – more elaborate or longer honeymoons. It should be up to the couple how to allocate your financial and time resources. Only you two can know what you need to start the next chapter of your lives on the right footing.
No matter what you desire, making it happen relies a lot on how much you can afford. The perfect honeymoon that fulfils your hopes and dreams is going to take smart planning and careful budgeting – and if you start early enough, you may not even have to tighten your spending in your daily budget.
Give Your Guests The Option Of Giving Ang Paus
The wedding website quickly became a staple in the industry due to being so convenient. You can keep track of your wedding plans, quickly update your guests about any information they need, and it also acts as a resource for communicating in a polite but decisive way with your guests.
Happily, the site can also be used in lieu of sending out a gift registry. This means that you can include a cash donation option at the very top of your gift registry page so people will know they can give you money instead of picking out a gift.
There are many advantages to having an online cash donation option for both you and your guests. You can end up receiving the cash weeks before the actual wedding – which allows you to allocate it as needed to either your wedding or honeymoon budget. Your less affluent guests will appreciate being able to contribute what they can to your special day.
It helps that people generally hate picking out gifts and love convenience – so giving your guests this option means that they will be more likely to give generously. If you only allow gifts, you may end up with three of the same RM200 air fryer – including one from an uncle who probably would have happily given you RM1,000 as a cash donation instead.
If your guest list is small and close enough, you can waive the need for gifts all together and just ask for money. This will only work if you have very practical family members and friends – so go the "cash donation plus some gifts" route if you have a mix of guests from different backgrounds who might prefer to stick to familiar traditions.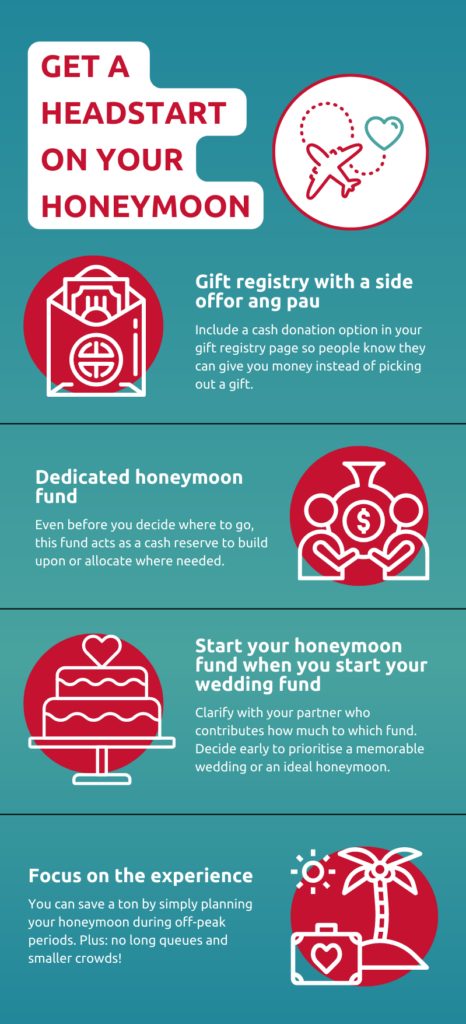 Building the Honeymoon Fund
Start a fund dedicated to your honeymoon. It doesn't matter if you already know where you want to go; it will be better for you to already have the fund in place before you decide – so that when you do know, you will already have a cash reserve that gives you a jumping-off point to either build upon or to allocate.
Start the honeymoon fund at the same time as your wedding fund. Sit down with your partner, and decide how to split your contributions to the funds. This will depend on your priorities: more to the wedding fund if you want a memorable event, or more to the honeymoon fund if you want an ideal honeymoon.
Delegating percentages to the funds becomes even more necessary if the two of you are contributing different amounts.
Another way to ensure a truly special honeymoon is to focus more on the experience than the time of year. If you book your honeymoon to take place during the off-peak season, you could get to experience everything you want without crowds nor waiting in never-ending queues.
Read up on tips on how to gauge peak and off-peak periods, or even find alternate countries to experience specific activities. The Maldives is expensive year round – but you can have the same beach and snorkelling experience in Fiji or the Philippines.
Also, do take note that airlines are raising prices across the board as more people are now able to travel due to the easing of travel restrictions. You may want to book flights months in advance to get good deals, or book them just out of sync with high-travel periods to get better rates. The cost of the same flight to Italy in October will be vastly different from the cost of flying in December.
Saving up for your dream honeymoon with KDI Save
Sometimes, you just don't have enough time to save the ideal amount for a honeymoon and the wedding you need in order to mollify both sets of parents.
Luckily, you can always turn to KDI Save. This low-risk, short-term fixed-rate cash management product offers interest rates above what a typical fixed deposit (FD) offers – with no lock-in period.
As of October 2022, KDI Save has upped its effective annual rate to 3.5%*, so even a little portion of your income once a month can snowball into a sizable honeymoon fund in the one to two years between proposal and wedding.
You can invest a small amount now – and by the time your wedding rolls around, your money will have grown due to compounding interest. Whether you are saving for the whole trip or just the flights, KDI Save gives you a nice little cushion to make that aspect of wedding planning just a little bit easier.
Plus, the daily returns and no lock-in period make it easy to withdraw from KDI Save to pre-pay or make deposits without worrying about forgoing future interest.
* Terms and conditions apply